Lumiere produces documentaries, feature stories and news segments for broadcasters in Japan and for educational programs for cable and satellite channels and programs for professionals.



"The Secret of the Snow Geese" is a documentary for international audiences about the Siberian Snow Geese of Wrangel Island. This program depicts the joint efforts of Russian, North American and Japanese scientists to solve the mystery of the disappearing Snow Geese by fitting radio transmitters on to some of the birds and following their migration patterns.

"A Year in the Life of an Arkansas Rice Farmer" is a 90-minute documentary for Japanese audience which explores the Arkansas rice farmer's dream of penetrating the Japanese market and the frustrations he encountered arising from the politics of international trade. Lumiere has also produced feature stories for "News 23," the most-watched nightly news in Japan. It includes "Cyber Terrorist: Chasing the Hacker King." We succeeded in getting an interview with the notorious gHacker Kingh Kevin Mitnick while he was serving a 5-year prison term. This news documentary traced his exploits up until he was arrested and unknown facts were revealed.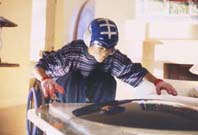 "The Touchdown"


"The Birthday Party"
shooting site

Lumiere produces a variety of corporate videos emphasizing corporate identity and introducing new products and technologies, using multi-national production teams to make presentations in innovative ways.

For example, the videos of "The Birthday Party" and "The Touchdown" were produced for NTT using story concepts from Japan, technological designs and futuristic communication devices from Italy, and production and post-production works done by American and Japanese crews in San Francisco. Both videos have been shown throughout the world to wide acclaim and have won awards in Japan and the U.S.





Lumiere provides distribution services of quality films to the Japanese broadcasters and for multimedia use. For example, Lumiere distributes classic American movies to Japanese cable and satellite channels, and wildlife documentaries to Tokyo Broadcasting's (TBS) "Amazing Animals!," the most popular weekly wildlife program.


| | |
| --- | --- |
| Artist-in-Residence | Lumiere provides research and coordination services for international film crews shooting in Japan. Lumiere has recently set up a unique residential facility in the outskirts of Tokyo where traditional Japanese farmhouses have been renovated as Artist-in-Residence facilities to assist established filmmakers in their film productions and to provide training grounds for those seeking valuable experience. The facilities are only 15 minutes away from Narita Airport. |